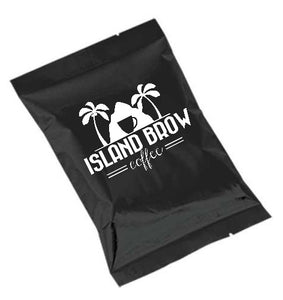 Brew Packs are pre-measured packets of our best selling Island Brow coffees.

First, choose your coffee: Tropical Sunrise, our light roast, Ocean Breeze, or Buried Treasure, our medium roasts, or if you prefer a dark roast, Bonfire on the Beach.  To find out about each one, click the links provided.

Next, decide how strong you like your coffee.  Each pack will make 1 standard 12 cup pot of coffee. Select 2.00 oz up to 2.50oz.

Then choose how much coffee to be delivered.  We recommend having enough for 2 weeks (2 pots of coffee a day = 10 packs/work week)
Finally, enjoy the great, clean taste of air roasted Island Brow Coffee.  Our brew packs ensure that each pot of coffee is made with the same measurements, so it tastes the same every time!